Beautiful sheepskins from Scandinavian sheep are the perfect solution for the transition from spring to winter!
No wonder that Scandinavian leather is one of our best-selling raw materials, after all, they are known all over the world for their silky curls, amazing range of colors, shine and multi-functionality.
Anyone who has dealt with this raw material will definitely confirm that it is a product
100% safe for human health and the environment,
100% ecological,
100% natural, with a soft and silky touch of these Scandinavian leathers
100% comfort and relaxation wherever you can check the use of Scandinavian sheepskins!
Due to the above-mentioned multifunctionality of this material, it is commonly used as home decorations, especially in the Scandinavian style. It is a worldwide phenomenon because it combines the natural world with subtle elegance and modern style with natural elements. Scandinavian leathers are also a perfect decoration for interior design in a classic style. They look amazing in any neutral interior, thus providing a warm and cozy atmosphere!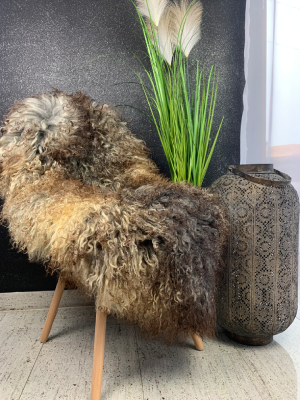 Scandinavian skins are skins that are perfect for a carpet in the living room or decoration by the fireplace, and placed by the bed, they will certainly make cold mornings pleasant. They look stunning on the couch or armchair. They also decorate the garden chair in a fabulous way. They are definitely suitable for both indoor and outdoor use thanks to their heat-regulating properties.